Disclosure: I received a product free of charge from Midnight Velvet. No monetary compensation was received or offered not was I under no obligation to write about this product. All opinions expressed are my honest thoughts on this product. I am not offering any sales or taking any orders for this item. I will not receive any compensation in connection with any sales of this item.
Midnight Velvet Studded Black & White Bag Review + $50 Gift Card Giveaway!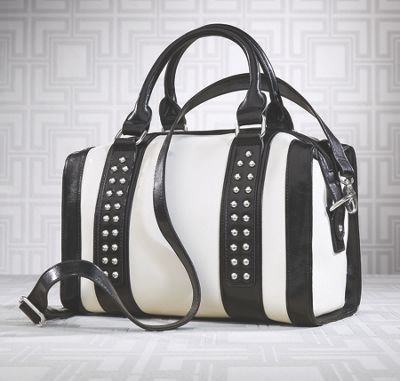 Photo Credit: Midnight Velvet
When I was approached by Midnight Velvet to participate in a review of one of their products for their Spring campaign I was excited to say the least. What girl wouldn't be thrilled to check out all they have to offer!
If you haven't heard of Midnight Velvet before you will be very excited to look at all their wonderful array of products they have to offer. Midnight Velvet has stylish clothing, accessories, shoes, jewelry, exotic home decor, health and beauty items, and beautiful gifts for so many occasions.
I chose their beautiful Studded Black and White Bag and when it came I couldn't wait to open the box. By the way, the box was so unique in that it in a neat zebra stripe motif with their logo on it.
Neat Box I Received My Hand Bag In
First of all, I love the Studded Black and White Bag that I received! It is so rich looking and will look sharp for the summer when I dress up with my black and white outfits. There is just something that stands out with basic black and white colors. To me, it's classy and timeless!
My Beautiful Studded Black and White Bag
My purse has so much room with the generous interior. It also has 3 pockets inside for your little extras. I love that this purse also has a removable shoulder strap that is adjustable. The silver studs on the sides make it visually extra appealing and is so stylish looking. The Studded Black and White Bag
sells for $69.95.
Back Side of Studded Black and White Bag
Midnight Velvet has so many unique and beautiful items to offer, that y
ou will be sure to find something you will adore!
Check out Midnight Velvet on their social media sites:
GIVEAWAY: Enter below to win a $50 Gift Code to Midnight Velvet! Ages 18 or older in the U.S. Ends June 9, 2014.